First listed on: 31 July 2020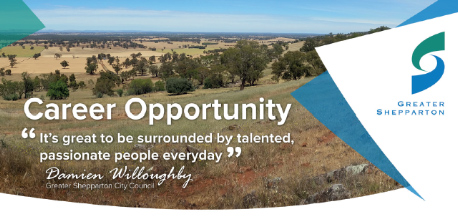 Manager – Environment
Salary: Senior Executive Officer Contract
Closing: Friday 14 August 2020
Full Time – Permanent
Greater Shepparton City Council has an exciting opportunity for an experienced manager with dynamic and agile leadership skills to lead our committed and enthusiastic Environment Team.
Reporting directly to the Director - Sustainable Development, this position will provide strategic direction to Council on all matters the position is responsible for: Sustainability and Environment, Environmental Health and Animal Management.
Key responsibilities of this dynamic position include:
You will be responsible for delivering a Zero Carbon Emission Target across the whole organisation by 2030.
You will form a relationship with the youth of the area so as to convert their ideas on climate into Council's action plans.
You will engage with the best scientists and futurists to ensure we change in every aspect of our business to lead us to a sustainable way of life respectful of the best practice from the past.
Provide innovative leadership and direction in the efficient, effective and responsible management and utilisation of all the Council's resources under the incumbent's control, to ensure quality customer service provision and that all activities are completed within budget, on time, and in accordance with environmentally sustainable practices and statutory requirements.
Develop and maintain a positive and environmentally focussed image of the Council, by actively promoting best practice strategies regarding environmental sustainability, environmental health and animal management.
Establish and foster positive relations with all Council staff, service authorities, relevant Local Government industrial associations and organisations including Goulburn Broken Catchment Management Authority, Goulburn Murray Water, and DELWP.
Enable Council to meet its responsibilities under the relevant Animal Management legislation and associated Local Laws, including animal management, control, prosecutions and community information.
Enable Council to meet its responsibilities under the relevant Environmental Health legislation and associated Local Laws, including provision of permits, wastewater management, food safety management and municipal health planning.
Develop and implement strategies, schemes and proposals approved by the Executive Leadership Team and Council to address Climate Change implications across the municipality.
To be successful in this position you will need:
Degree or post graduate qualifications in a relevant discipline such as Business Management, Environmental Planning or Science or substantial experience working in a similar role at a senior level.
Extensive understanding of statutory obligations and legislative requirements relevant to Environmental Health legislation, the Local Government Act 2020, and Domestic Animals Act 1994.
Outstanding communication skills including the ability to negotiate and influence stakeholders whilst building strong relationships.
Excellent written and verbal communication skills, with the ability to produce high quality reports and policies, to make formal presentations and to represent Council to external stakeholders.
Strong leadership skills and able to demonstrate positive work behaviours across a multifaceted team.
This is a rewarding and complex portfolio that will challenge your abilities to work both strategically and operationally and requires a passionate and enthusiastic approach to environmental sustainability.
For more information about this position, please contact Geraldine Christou, Director - Sustainable Development on (03) 5832 9872.

Closing Date:

14 Aug 2020
Location:

VIC - Shepparton
Salary:

$120,000.00 - $175,000.00
Work Type:

Full Time
Category:

Business Development/Planning
Community Planning/Engagement
Environmental/Water/Waste
Management/Leadership
Sustainability
Urban Planning/Design