ACT ad ban up for review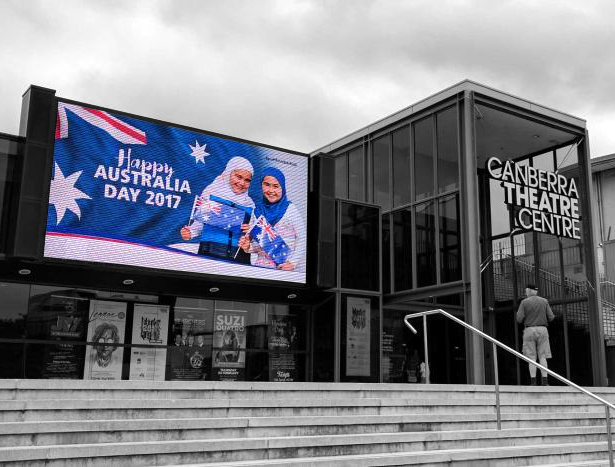 The ACT Government is looking at changing its long-standing 'no billboards' rule.
An ordinance from 1937 prohibiting unauthorised signs on Commonwealth property has kept Canberra pretty much ad-free, other than in grey areas at Canberra Airport, and a grey area in places like the National Convention Centre and the multi-storey Canberra Centre.
The ACT Government is allowed to promote campaigns on electronic billboards outside the Canberra Theatre and on ACTION buses, but Chief Minister Andrew Barr says there may be room for more.
"It's not in any way a suggestion we should turn Canberra into Times Square," he said.
"I'm not suggesting here that there be no restriction on this at all, but the question does arise why there is absolutely none."
The matter will soon be examined by the planning committee, led by Greens member Caroline le Couteur, before the Legislative Assembly gets involved.
"The presumption [by the 1937 rule] would have been around the Parliamentary Triangle and significant national areas, and I think there is no doubt you would not want to have any outdoor adverting in that context," he said.
"But in other parts of Canberra it may be appropriate."
Mr Barr said relaxing the laws could let someone other than the Government be the "final arbiter" on advertisements.
But some people are upset at the displays on the few billboards Canberra does have, after the Territory this week displayed a controversial Australia Day sign on its electronic screens at the Canberra Theatre.
The image depicting two young women in hijabs holding Australian flags was originally displayed in Melbourne, but was removed after a barrage of threats and complaints.
An online crowdfunding campaign to reinstate the sign saw it pop up days later in the ACT.
But Mr Barr said the billboard promoted a message that the Government backed.
"We think is a really good example of multiculturalism at work, a great celebration of the diversity of both our city and our nation," he said.
"We have taken a decision that the values and the substance of this particular advertising campaign reflect contemporary Canberra and we believe reflect the views of the majority of Canberrans."
On the broader topic of advertising in the ACT, Andrew Hughes from the Australian National University's Business and Economics department says the Territory has something to protect.
"The question is whether we can make money from it now and commercialise it through these big, big billboard signs you see perhaps coming from Sydney and Melbourne airport," he told the ABC.
"Maybe the Government can raise some money from that, so if they're put in the right place maybe, just maybe you can get away with it without killing the pretty scenes which are Canberra."