Top marks for mine questioned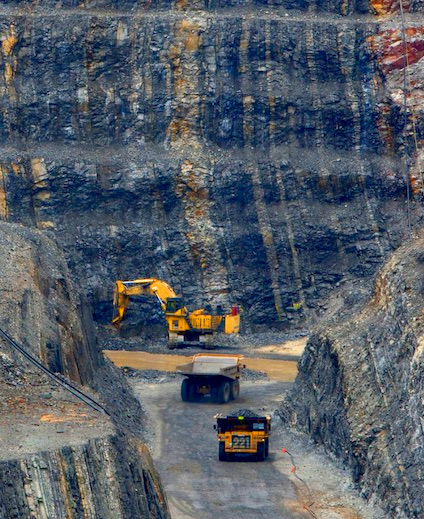 NT regulators say there are no significant environmental issues at the McArthur River Mine, despite its history of issues.
Independent assessors brought in by the Northern Territory Environmental Protection Authority (NT EPA) have reviewed activities at the Glencore-owned mine site from April 1, 2018 to April 30, 2020.
They were there to look at how Glencore is handling the conditions recommended by its mining authorisation, waste discharge license and NT EPA recommendations.
The mine, located 700 kilometres south-east of Darwin, is one of the largest zinc and lead mines in the world.
It has also been the site of several significant environmental mishaps over the past decade, including issues with its burning waste rock dump and the contamination of fish and cattle. Glencore's claims about the economic boost the mine will bring to the NT and its communities have been questioned too.
But independent monitor Advisian says the mine is at a "high level of compliance" with its environmental obligations, including in its management of waste rock.
"This finding is an indicator of a high level of environmental performance achieved by the operator," it said.
The review found the nearby river system is in "overall good health", and that it is safe for people to eat fish they catch from the McArthur River.
However, mussels and rainbow fish in Barney Creek — which is off-limits to the public — were found to contain metal concentrations above maximum-permitted levels.
The mine operating conditions require it to be assessed by a government-appointed independent monitor each year.
There was no reporting on the McArthur River Mine in 2019 or 2020; something the Environment Centre NT (ECNT) has described as "unacceptable".
ECNT says the findings of the 2021 report were very different to previous reports issued by the former independent monitor, Erias Group.
"We're completely bewildered by this independent monitor report, which is so vastly out of step with every other independent monitor report that's ever been published with respect to this mine," ECNT co-director Kirsty Howey said.
Ms Howey said risks outlined in the 2018 report were skipped over in the new report.
"We'd say [this] is a tick-and-flick exercise against whether the mine is performing against regulatory conditions imposed by the government, rather than an oversight of the environmental performance of this mine as a whole, which is what is required," she said.
"It does not address a significant number of environmental risks identified by the previous independent monitor.
"There's no way these problems have vanished into thin air."
However, the NT Department of Industry, Tourism and Trade disputed the claim, saying the independent monitor had "unfettered access to the mine site, responsible individuals and all relevant documentation".
The Minister for Mining, Nicole Manison, said McArthur River Mine was subject to intense scrutiny.
"It's under more transparency and more rigorous assessment than any other mine," Ms Manison said.
"And again, it is good to see that the independent monitor's report has come in [and] it has said that the mine is meeting its obligations."
Glencore subsidiary McArthur River Mining (MRM) general manager Steven Rooney said the clean report is a major achievement.
"We take the findings of the independent monitor very seriously and will keep on working to protect the health of McArthur River and surrounding environment," he said.
"The entire workforce at MRM is committed to operating responsibly and I'm very proud of their achievements. The independent monitor's findings are a testament to the considerable and sustained progress we've made in recent years."