Big bridge fix to boost national moves

Print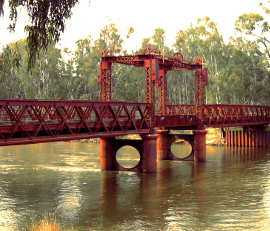 Federal Government money is set to improve freight productivity through dozens of major bridge upgrades.
Fifty-three bridge upgrade projects around the country have been funded in the first tranche of the Government's Bridges Renewal program.
Infrastructure Minister Warren Truss says the bridges selected offered "win-win" results for federal, state, and local governments.
"The Bridges Renewal program is designed to bolster productivity of Australia's local bridges, to better serve communities and drive greater efficiency in road freight and traffic movement," he said.
"By upgrading these bridges from, for example, a one-lane timber bridge to a two-lane concrete bridge, residents will enjoy better, safer and more reliable road access.
"Freight from farms and local factories will be able to pass safely along quicker routes with greatly improve productivity."
The first round of Federal payouts will provide $114 million, to be matched by a mix of state and territory governments and local council money.
The Federal Government has set aside $300 million for the entire project.
Of the 53 bridges to be fixed; 18 are in Victoria, 17 in Queensland, five in Tasmania, four in Western Australia, six in the Northern Territory and three in the Australian Capital Territory.