Darwin shuts down buskers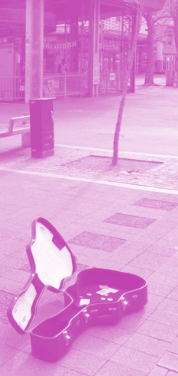 Darwin's Lord Mayor has revoked permits for buskers and street performers in the city's Smith Street Mall.
Some of the mall's 19 registered buskers had "exacerbated anti-social behaviour in the Darwin CBD" and "buskers who have obtained permits have continually breached conditions", according to the motion put forward by Cr Vatskalis.
No new busking permits will be issued, and existing permits will be void from close of business on February 25. The council says it will review its busking laws and reinstate new laws on May 1.
"I said we will review the busking situation in the mall because it's not workable," the Lord Mayor told reporters.
"I have become a witness to what was supposed to be a busker and he drew a bottle of wine out from where he was busking and he was selling it to itinerants.
"I became a witness to a person passing little envelopes to itinerants and he was supposed to be a busker.
"We had some really good buskers in the mall and I want to see them back.
"I have never heard complaints about buskers in the mall [but] I have heard complaints of people in the mall being obnoxious, begging, and using foul language."
Mall business owner Paul Arnold says the busking guidelines were not being enforced.
"Every two hours you're supposed to move 250 metres. They stay there all day," he said.
"I can have clap sticks at my door for eight hours a day and there's nothing I can do about it.
"You've got people 24/7 banging thongs and coke bottles."
He said legitimate buskers are often robbed, and their money used for antisocial purposes.
"The busker was good, but by 5.30pm there'd be 20 to 30 stoned and drunk itinerants all over the place carrying on like pork chops," he said.
"I call the police every day. Why do I need to put up with that? You can be drunk and a busker and not get moved on.
"Yes [the ban's] upset a few people, but those people don't see what I see every day.
"Maybe the council went a bit far, but I'm not complaining. This is the mess the council created."
New busking guidelines in Darwin were ratified by the entire council just 18 months ago.
Those guidelines were supposed to be reviewed after June 30, 2019, but this did not occur.