Dumps destroy western benches

Print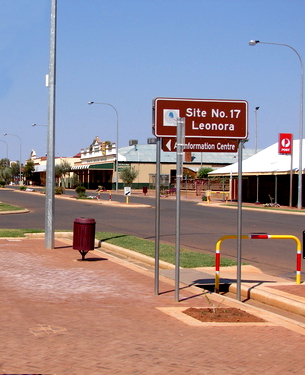 An outback WA council says if residents cannot control their rubbish, they will not get any benches to sit on.
Bench seats have been removed from the main street of Leonora in WA's Goldfields region to punish community members and tourists for littering.
The bench areas around the bins were at risk of being swallowed up by a deluge of detritus, and Leonora CEO Jim Epis says something had to be done.
"It's just unsightly," Mr Epis told the ABC.
"We spend too much money cleaning up around these areas.
"Until people learn and respect that [bins] are there for a reason, we thought that [removing the benches] was the best thing we could do.
"We are about to replace new street bins in the main street at a cost of about $35,000.
"If members of the public treat these new items of furniture with some respect, the possibility of reinstating the street benches could be considered at a later stage."
Me Epis said dealing with locals' laziness was costing too much.
"The bins we had in place previously, even though they were a sturdy bin, there were still ways of being able to remove the lid and use it as a missile in quite a few incidents in town in recent months," he said.
"So we have had to go for a new design."
Mr Epis hinted that the council could provide benches once more.
"I don't think we would be putting back the ones we have taken away because they have been vandalised," he said.
"And I'm saying [replacing the benches will be] considered, because they are not cheap.
"I know it's sad and it's something that council didn't want to do," he said.
"But when you have got the community screaming out for the removal of these items - and we know very well it was causing a problem - well, we are punishing everybody.
"And until the community is able to work together, well, that will be it."