Fires prompt location call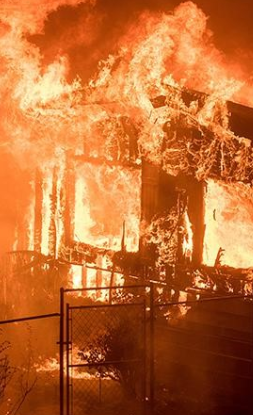 Experts say houses should not be built in bushfire-prone areas.
Melbourne University fire ecologist Kevin Tolhurst says there are areas of the Australian bush where houses should never have been built — or rebuilt.
"People shouldn't be surprised that if the house burns down, that they're not going to be allowed to rebuild because that property has perhaps already been identified as one that's in a place too dangerous to live," Dr Tolhurst said.
"If it comes as a surprise, not only do they have the trauma of losing things through fire, the trauma of not being able to rebuild adds to that problem."
A royal commission in the aftermath of the Black Saturday fires suggested people may have to move out of some areas entirely.
The review made 67 recommendations, including calling for the voluntary buy-back of at-risk properties.
It suggested that "the state develop and implement a retreat and resettlement strategy for existing developments in areas of unacceptably high bushfire risk, including a scheme for non-compulsory acquisition by the state of land in these areas".
"To rebuild without any real thought being given to the future management of bushfire risk is to fail to learn from experience," the report said.
John Brumby, the Victorian premier at the time, did not accept the recommendation.
"You could have five people in a road of 10 people, who said 'Yes, please buy me out', and by them leaving, their house being cleared and the house being left it would probably actually pose a higher fire danger risk to those remaining than had neighbours being either side of them," he said.
"In all of the consultations we had, no-one could explain to us how this would practically and objectively work and that's why we rejected it."
The royal commission referenced a longer-term scheme in the Dandenong Ranges, which saw the compulsory acquisition of at-risk homes over the course of three decades to create a buffer zone.
Dr Tolhurst believes this idea needs another look, nationwide.
"The need for it is even greater now than ever before because the population is larger," he said.
"We have more people living on this rural-urban interface and the bushfire situation is much more severe than it was five or six decades ago.
"There's a massive legacy there of people living in indefensible locations, we need to recognise that there were some mistakes made from a planning point of view."