Grain farmers push for time to inquire

Print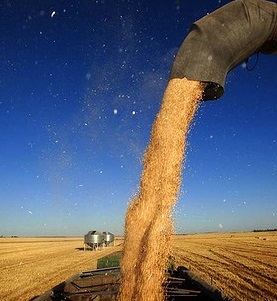 The Federal Government may delay its decision over whether to allow an American firm to buy out one of the country's most prominent grain companies.
Members of the NSW Farmers Association say they want the Government to reconsider allowing the sale of Graincorp; with plans underway for American-based company Archer Daniels Midland (ADM) to buy it for around $3 billion.
Members will meet with Agriculture Minister Barnaby Joyce, Senator Fiona Nash and representatives of Treasurer Joe Hockey's office to discuss their concerns. Some believe the takeover will put the squeeze on farmers who are already struggling to match international prices.
Reports say agricultural industry members want a Senate inquiry into foreign ownership restrictions to be completed before the Government and Foreign Investment Review Board sign off.
Reports from the US say ADM fully expects to own Graincorp by the end of the year, with ADM Chief Executive Patricia Woertz telling investors in Chicago: "We're very anxious to put that [GrainCorp] as part of our family and part of our portfolio."
ADM hopes buying GrainCorp will lead to a stronger foothold in Asian markets.
Daniel Cooper, a farmer and Grains Committee chairperson, says it is not about ownership: "It is frustrating that this is being pitched as a foreign investment thing," he said
"For us, it is about what is the benefit in the transaction? Looking at it, I just don't see how any politician can see a reason to give it the green light."
"Hopefully early in the New Year, we'd be asking FIRB to ask ADM to lift their application off the table and resubmit it and give another 3 months to allow that inquiry to finish."
The deal is just awaiting approval from the FIRB, after being allowed by the Australian Competition and Consumer Commission.