High rates show unhealthy gaps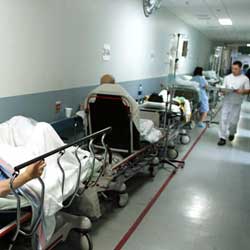 A new report says the high rate of hospitalisation for treatable conditions in some areas shows Australia's health system is failing many.
The Grattan Institute Study found places like Frankston and Broadmeadows in Victoria and Mount Isa and Palm Island in Queensland have hospitalisation rates for preventable conditions that are over fifty per cent higher than the state average, and have been so each year for over a decade.
"The problem can be addressed, but only if governments come up with targeted solutions for individual places," a statement from Grattan reads.
"Australia is not a uniform country and a one-size-fits-all approach will not work. Local, tailored policy responses are required.
"Reducing potentially preventable hospitalisations in hot spots in Victoria and Queensland — the two states the report studied – would save a total of at least $15 million a year. Indirect savings should be significantly larger," the researchers said.
The experts say the system needs a method of identifying small areas where health inequalities are entrenched and, without intervention, are likely to endure.
To build up evidence of what works in reducing location-based health problems, the report recommends that governments should get Primary Health Networks and local communities to work together on three- to five-year trials of tailored programs.
"Rigorous evaluation is critical, so that the lessons from successful trials can be applied across the country," Grattan said.
"Because persistent hotspots are rare, targeting them alone will not substantially reduce the growing burden of potentially preventable hospitalisations, but it's an important first step.
"Government and Primary Health Networks must ensure that all communities get a fair go.
"The government will save money and, more importantly, some of the most disadvantaged Australians will get the chance to lead healthier, more productive lives."
The report is available in PDF form from Grattan's site, here.