Katherine approaching safe levels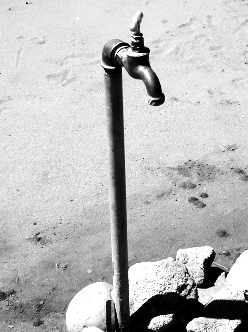 Water consumption is increasing in Katherine, were some supplies are pushing against safe PFAS limits.
A spokesperson from NT Power and Water has told reporters that water demand is increasing.
The authorities warn residents to reduce water use so that PFAS-affected bore water can be kept to an absolute minimum.
"These measures are necessary to help safeguard the town's water supply," the spokesperson said.
PFAS chemicals are at dangerous levels in borewater near the town. Bore supplies are blended with river water to provide Katherine's drinking water.
After the bore and river supplies are mixed, Katherine's drinking water falls within safe limits of PFAS.
The town is now close to the maximum amount that can be produced without the need for bore water to be added.
The town has been forced to drink contaminated water before, at PFAS levels around five times the recommended "tolerable daily intake" levels.
"There may be times during the first rains of the wet season that bacteria levels peak in the Katherine River and it becomes highly turbid and reliance on bore water increases," said NT health minister Natasha Fyles .
A water treatment plant was delivered to the town last week, but will not be operational until the end of October.
The plant says it will only treat one tenth of the town's daily water supply.
"Once fully operational, the plant will treat up to 1ML of bore water each day. This together with the 10.3ML that is produced by the existing treatment plant will be carefully managed to help Power and Water meet Katherine's water demand," Power and Water Katherine Region area manager Chris Horton said.
"However, we need residents to adhere to the conservation measures in place and make a conscious effort to continue to use less water during this high demand time.
"Power and Water is working hard to alleviate the situation and has secured interim support in the pilot water treatment plant to help keep Katherine's water safe to drink, however we need the community of Katherine to keep helping out," he said.