NSW Nationals on coal drive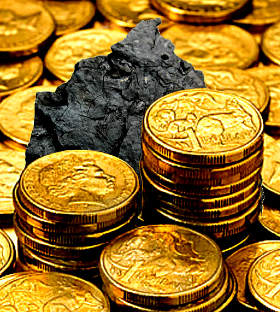 The NSW Nationals want to use money from asset sales to build a new coal-fired power station.
Federal Resources Minister Matt Canavan says he supports the proposal by NSW Deputy Premier John Barilaro to use an allocation of about $850 million earmarked for the regions from the $2.6 billion sale of the Land and Property Information service.
The bulk of the money has been committed to a $2.3 billion stadium plan.
Mr Barilaro and Upper Hunter Nationals MP Michael Johnsen say a joint venture with the private sector would be able to cover the enormous cost of a new coal-fired station located in Mr Johnsen's marginal seat, to replace the Liddell power station, which will shut down in 2022.
NSW's Liberals-Nationals agreement requires one-third of the money raised from asset sales to go to the bush.
Senator Canavan said the proposal is a "no-brainer".
"It's clear they [NSW] face a serious threat as to the stability [of their] supply," he said.
"They face a threat of having insufficient electricity supplies by 2022 with the closure of Liddell. I have often said it's got to be realised by baseload dispatchable power.
"Gas looks a non-starter in NSW given the [state] government's on a go-slow on gas developments and the only other option appears coal and we hope the NSW government makes decisions to keep its electricity supplies [strong] so prices can be kept under control."
Federal Energy and Environment Minister Josh Frydenberg has no objection either.
"As a truly technology-neutral policy, the Turnbull government's National Energy Guarantee will deliver a more affordable and reliable energy system without subsidies, taxes or trading schemes," Mr Frydenberg said.
"Unlike the Labor Party, the Coalition realises that coal will continue to play an important part of the energy mix as it supplies reliable baseload generation."
Premier Gladys Berejiklian has allowed ministers to hold a full cabinet discussion on energy needs, at which the Nationals' power station proposal will be laid out.
Opposition Leader Luke Foley labelled the plan a "thought bubble".
"This comes from the mob who sold off all the state's power stations," Mr Foley said.
Mr Foley continues poking holes in the idea in an article for RenewEconomy.