NT caps once open roads

Print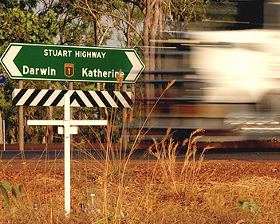 The NT Labor Government has scrapped open speed roads, imposing a 130km/hr limit in the name of safety.
"We believe that 130 kilometres per hour is fast enough," said Health Minister Natasha Fyles.
"We encourage all drivers to slow down and stay safe, particularly as we head into the wet season when conditions are changing, they need to look out for those changed conditions."
The push was backed by surgeons and medical professionals, who argued that with higher speeds comes a greater risk of injuries from road accidents.
But former CLP chief minister Adam Giles said the Territory was in danger of becoming a nanny state.
During a trial of the open speed zones last year, the fastest speed a driver claimed to have travelled was 295 km/hr.
The average speed was around 139km/hr.