Police empowered to end tent city

Print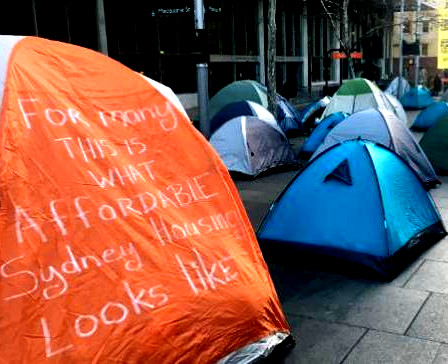 Police may soon start to bust up Sydney's CBD 'tent city'.
Residents are expected to be made to find shelter elsewhere, after the NSW Government gave police the power to tear the camp down.
Police have been authorised to remove people from crown land if the land minister considers their presence a "public safety issue".
The upper house passed the bill on Wednesday evening just one day after it was introduced, as the government scrambles to clear the Martin Place camp quickly.
Labor and the Greens described the bill as a smokescreen to mask "political argy-bargy" between two tiers of government, after the Berejiklian Government told Sydney Lord Mayor Clover Moore to move the homeless people and protestors, and the Mayor saying she did not have the power.
Social Housing Minister Pru Goward said the new legislation would allow the unlawful use of Martin Place to be dealt with "appropriately and in a timely manner".
The City of Sydney had previously made a deal with the homeless tent dwellers to vacate the Martin Place campsite, but it failed.