Tasman merger rejected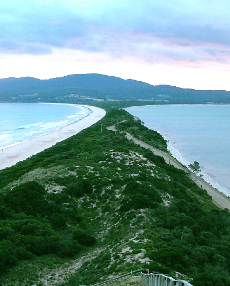 Locals have rejected Tasmania's latest council merger attempt, throwing the whole process into question.
Many thought the amalgamation of the Sorell and Tasman Councils, both east of Hobart, was sure to go ahead. But at a meeting this week residents returned a resounding 'no' vote.
Sorell had voted unanimously to merge with the Tasman Council, and the latter had rejected a similar motion but was also recently replaced with a largely pro-amalgamation council.
The vote result was welcomed by some, but for other proved that voluntary amalgamations do not work.
The Property Council of Tasmania's chief executive Brian Wightman said it is not surprising.
"Whenever you put forward a case of voluntary amalgamation with the local government authorities, it's never going to be successful," he said.
"People like local representation. They like the fact that they can go and speak to somebody about their particular issues.
"Amalgamations across Tasmania need to happen for a whole host of reasons, but they won't happen from a voluntary position, they actually need to be led by the State Government."
Tasmania has 29 councils for a population of more than 520,000, compared for example with Melbourne, which has 31 councils for a population of more than 5 million.
Tasmania's councillors cost about $6.4 million each year, coming out at $12.28 per resident.
Analysis had found that creating a great south-eastern council — merging Clarence, Tasman, Sorell and Glamorgan Spring Bay — would save $7.6 million per year.
A merger of Tasman and Sorell would have saved $1.2 million per year.
The Tasmanian Chamber of Commerce and Industry says it might be time to make the case for forced amalgamations.
"[They] need to articulate why 29 councils is illogical in Tasmania and to move forward on a strategic amalgamation platform," chamber spokesperson Michael Bailey has told the ABC.
"We believe that forced amalgamations is the only way we're going to see reform in this very important sector of government in Tasmania.
"Behind the scenes all government or opposition agree that this is really important, but they're all gun shy because of the Rundle election loss back in the 1990s.
"So although they agree that it's very important, they also agree that it would be political suicide for them."
He said local governments and communities may never be able to make the best choice.
"When people are surveyed the vast majority of Tasmanians want to see fewer councils, but when they're asked the question of whether they want it to be their own council, quite often it's a resounding no," he said.