Victoria boosts ER safety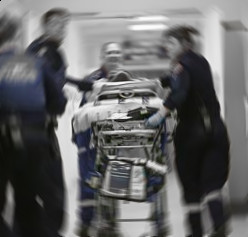 Victoria has doubled funding for security in public hospitals after a disturbing attack on a surgeon.
Dr Patrick Pritzwald-Stegmann remains in a critical condition after he was punched in the head and knocked unconscious at Box Hill Hospital last month.
His alleged attacker has been charged with recklessly causing serious injury, but authorities say it is just the most recent event in a long history of attacks on the people most willing to help.
The Victorian Government has pledged an extra $20 million for purpose-built behavioural assessment facilities in emergency departments.
"Those will help better protect our staff, as well as the patients that are at risk, and they've shown themselves to be very effective at our Royal Melbourne Hospital," Health Minister Jill Hennessy said.
"We're also boosting the security presence in our Victorian hospitals, and we're also running a community campaign through some ads to remind people that our hospital workers are there to save our lives and they will be treated with respect, not aggression."
The Government has identified the Austin, Casey and Northern hospitals in Melbourne, the Warrnambool hospital, and University hospital in Geelong as prime candidates for assessment centres, but any others that believe they need them will be considered too.
"We know that too many of our health and emergency services workers are subject to occupational violence and aggression," Ms Hennessy said.
"We know part of the great challenge is an increase in prevalence of alcohol and drug-affected and mental health patients. They can be difficult and aggressive to manage.
"But healthcare workers are also reporting a general increase in patients, and family members of patients, being rude and aggressive, and I think we've got to try and get the pendulum back in favour of the safety of our healthcare workers.
"It's a complex problem that requires different complex solutions."